---
Monday, September 1, 2008
New Solarcon A99 Antenna
After KD8HBZ Ray and I made the made the
upgrades
to the old 102" whip antenna on Saturday, N9BAV Dan and I got together on Sunday and installed a new
Solarcon A99
antenna.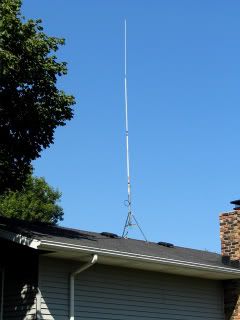 The new Solarcon A99 installed at my QTH.
The Solarcon A99 is a CB antenna, so you may be asking yourself why an amateur radio operator would be installing one. After all, lots amateur radio operators don't want anything to do with CB, many of them to the point of being nasty about it.
I'll try to answer that question in two parts.
The first answer is that the Solarcon A99 is not just a CB antenna. If you read the description of the antenna at the link above it states, "Operates 10 thru 17 Meters with Tuner." The instructions that that come with the antenna list it as a "Ham, CB, Commercial" antenna and include instructions for cutting the antenna to the proper length for various bands and tuning it with the tuning ring feature. I had intended to buy one of these ever since I bought my ICOM IC-735 HF radio, back when I had a Technician license. At that time I was only going to use it as a 10 meter antenna. However I feel that it is such a versatile antenna that it was still worth getting even though I can now operate on many more frequencies than just 10 meters. The second reason for getting the A99 is that I do have a CB in my station. I feel that there are many reasons why an amateur radio operator should have a CB in their shack, the main one being emergency communications. In a disaster situation when all other means of communication are out, many citizens are going to try and use CB radios to communicate. They may need to call for emergency services, report dangerous conditions, ask for road closing information, or any number of things. If those of us in amateur radio who are tasked with emergency communications can't talk to people with CBs, I feel that we are really dropping the ball. I'm also not afraid to admit that I enjoy taking on the CB from time to time as well. There are still plenty of decent CB operators out there that enjoy a pleasant QSO.
So I felt that the A99 was a good fit for my station at this point in it's development.
Dan and I found the Solarcon A99 to be extremely easy to install. It went together in minutes. We mounted it on the roof of the house on a 3 foot TV antenna tripod on a 7 foot mast, which left the base of the antenna about 5 feet above the peak of the roof. It's fed with 60 feet of RG-213 coax.
Since this is a CB antenna and comes factory tuned for 11 meters, I decided that the first test after installation should be to hook it up to a CB.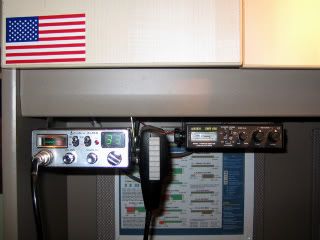 The Cobra 19 LTD II and Aries SWR 450 SWR/Power meter and matcher.
Used as a CB base station at my amateur radio station.
My CB "base station" is an old Cobra 19 LTD II paired with an
Aries SWR 450
SWR/power meter and antenna matcher. The radio is powered by an Astron RS-12A power supply. There was no need to use the matcher with the A99 antenna. Right out of the box it had 1:1 SWR on channel 1, and 1.3:1 on channel 40. When I switched to channel 20, the middle of the band, it gave an SWR reading of 1:1. You can't do much better than that for an out of the box antenna with no tuning at all. I called for a radio check on channel 19 and got three replies all at once. All were loud and clear. I didn't experiment any further at that point. Then we hooked it up to my IC-735, via the
LDG AT-100Pro
autotuner. The A99 tuned a 1:1 SWR across the General portion of the phone band on 10, 12, and 15 meters. I was also able to tune all of the General potion of the Phone band on 17 meters but got a 1:3 SWR on most of it. Conditions were horrible at 2 PM on a crystal clear 90 degree afternoon, and I wasn't able to hear anything on any of those bands let alone make any contacts. Later in the evening, after dark, I turned on the IC-735 again. The lower bands were still dead. So I went to 20. There wasn't much action on 20, but it had been the same way the night before. Then I went to 40. Wow. I was not only listening to lots of QSOs on 40, but foreign broadcast stations were coming in too. Really well. Like they were local. Most of the QSOs on 40 were real weak, but one was fairly strong. The station that I could hear well was in New Mexico and he had a pile-up of stations calling him. Just for fun I tried tuning the A99 on that frequency and got a 1:1 SWR! The AT-100 was able to tune the A99 on 40 meters! So the next several times that the station in New Mexico said QST I tried to call, but I wasn't able to break through the pile-up. That was the only station that I tried calling. But I did spend the rest of the evening listening, and the A99 was pulling in stations from everywhere. It was fun. Up and down the bands I got broadcast stations on AM, FM, and shortwave from everywhere.
I'm very happy with my purchase of the Solarcon A99. It was relatively inexpensive, very easy to assemble and mount, and seems to work very well for it's intended purpose. Under the right conditions it appears that it will do more than it was intended to as well. Even though the antenna is 18 feet tall it doesn't weigh much, has low wind loading, and can be mounted using just about anything.
I'm sure that a Solarcon A99 will never be my main station antenna, but it will be an important part of my antenna system for a long time to come.
Comments:
Nice article as for me. I'd like to read something more concerning that theme. The only thing I would like to see here is a few pictures of some gizmos.
Nickolas Stepman
Mobile phone blocker
Post a Comment
Subscribe to Post Comments [Atom]
<< Home
Subscribe to Posts [Atom]