---
Saturday, September 6, 2008
RadioWavz 40 Meter Dipole
---
UPDATE: See Related Posts:
RadioWavz 40 Meter Dipole Is Operating
RadioWavz 40 Meter Dipole - Final Thoughts
---
"Sheer luck!"
That was Bob's reaction when I told him about how I had made a 20 Meter
contact with a station in Miami
, using a 102" steel whip for an antenna and received a 5/9 signal report in the process.
I had stopped in to
Phil's Ham Radio Store
in New Haven, Indiana, as I often do when I am in the Ft. Wayne area. Phil Hooper AB9IZ runs a nice shop there. I enjoy dropping by, having a cup of coffee, and talking to Phil and his partner Bob. Bob Helt NY6J has probably forgotten more about radios and their operation than I'll ever know. So I had hit him up for free advice (to go with the free coffee) about where I should go next with HF antennas at my station.
When I told Bob that after talking with Charlie N9BIF I was thinking about going to a real simple wire dipole, probably cut for 40 Meters. Using my tuner I could use the wire antenna for 20 and 40. I would then have a suitable antenna for everything from 10 through 40 Meters, which are all of the frequencies that I am most likely to use right now. Bob thought it was a good idea too.
During the course of our conversation we were looking at the construction of a
RadioWavz
40 Meter wire dipole antenna. It's a decent looking antenna. It seems to be well constructed, and very well sealed from the elements. I ended up leaving with it.
Dan N9BAV and I are planning on doing a "quick-n'-dirty" set-up tomorrow. I'll play with it some, then maybe we'll go to a cleaner, more professional installation later. I'll post an update when the antenna is installed and working.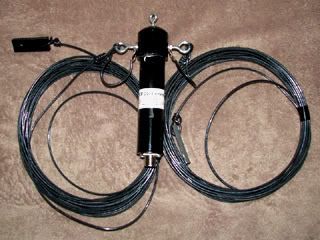 The RadioWavz 40 Meter wire dipole antenna.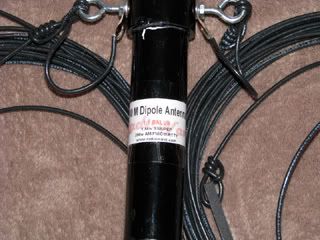 Closer view of the antenna.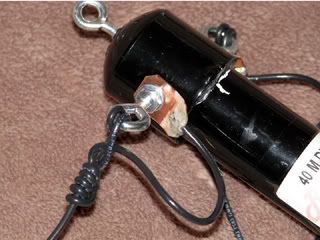 Note the construction and weatherproofing.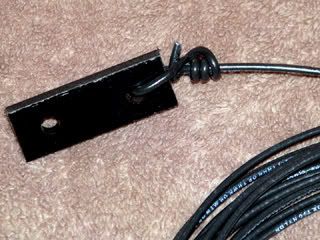 Insulator at the end of the wire.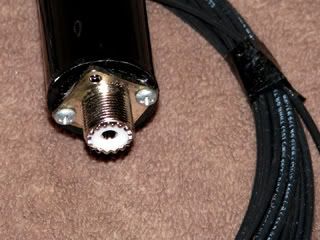 SO-239 connector at the bottom of the balun.
Subscribe to Posts [Atom]