---
Sunday, September 21, 2008
Yaesu FT-450
I added another piece of equipment to my station last week, a major one at that.
The decision to do so came as a result of something that I've been mulling over since I started operating on HF.
I bought a brand-new HF radio.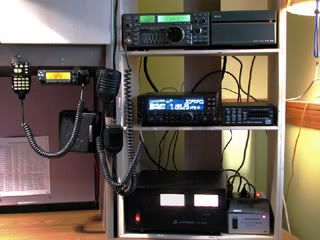 New and improved shack. HF rack on right holds ( from top to bottom, L to R) ICOM IC-735 xcvr, PS-55 power supply, Yaesu FT-450 xcvr, LDG AT-100Pro tuner, Astron PS-35 power supply, Radio Shack power supply.
Although I didn't really need a new HF radio, there were many reasons that I decided to get one.
Back when I first got my technician's license I ran right out and bought an HF radio with the intention of using it on 10 meters. The radio that I bought was a really nice ICOM IC-735 with a matching PS-55 power supply.
Considering my complete lack of knowledge and experience at the time I feel like I made a pretty good choice. But life happens and I never got around to using it on 10 meters as a tech. It ended up sitting a shelf collecting dust until I recently upgraded my license to general. When that happened the IC-735 was quickly placed into service and it worked.
I made
contacts
with it, even when using substandard, makeshift antennas. With limited funds and limited time I felt fortunate just to have an HF radio.
Then when I added the
RadioWavz 40 Meter dipole
antenna the performance really improved. But I still wasn't entirely satisfied, and I wanted a 6 meter radio. The IC-735 will not do 6 meters.
I had looked at some nice, classic, used 6 meter units. But by the time you would pay the $350-450.00 to get one of those stand-alone units you could be a long way towards a new HF radio that included 6 meters.
So taking everything into consideration I decided to buy a new radio.
The choice of which new radio to buy was a fairly easy one to make. I liked the ICOM IC-718 but it doesn't do 6 meters so it was out. Everything else that ICOM makes was too expensive. Alinco didn't have anything that I was interested in. The Kenwood TS-480SAT looked like a possibility, but it is expensive for what it is. Which brings us to Yaesu.
With the exception of one, all of the new radios that I've purchased since becoming a ham have been Yaesu products. That has not been a deliberate choice made out of blind brand loyalty or anything. It just seems like whenever I compare features and price, Yaesu always seems to have what I want. The same turned out to be true this time.
Yaesu FT-450.
The
Yaesu FT-450
had all of the features that I was looking for and the price ($650.00) was less than anything else I would consider buying. So it was the FT-450 for me.
There have been plenty of technical reviews written about this radio by people who undoubtedly know lots more than I do, so I'll just give you my impressions.
First off, it's a small radio. In some of the reviews that I have read they made a big deal about that. It is a small radio, but not like an FT-817 or FT-857 is small. This is still a "full size" category unit in my mind. "Compact" maybe. I couldn't see this radio being used as a mobile in a car, but it would be great mounted in an RV.
I love the digital display. Everything is arranged conveniently for the operator to see. Especially all of the filters and DSP functions, which are visible on the left side of the display. For someone like me, who isn't always exactly sure which filter to use in any given situation, it's nice to be able to see a graphic representation of them on the display as you make adjustments. That way you can learn very quickly when to use the various features.
Left side of the display showing settings for filters and DSP.
Speaking of filters and DSP, I can hear very, very, well with this radio. Once I find a signal I can usually eliminate a good part of any noise that is present. I have also not had any problem being heard, getting good signal reports from everyone that I have called so far.
Something else that I really like about the 450 is the microphone. It's a full-size, hand-filling unit that is made for actual adults. While I have to admit that it looks a little bit out of proportion when compared to the rather compact radio, it feels great in your hand.
As many others have mentioned in their reviews, I found the built-in speaker to be small and kind-of tinny. So I'm running the sound through an external speaker now and it was a huge improvement.
I also don't like the smallish VFO knob. You can use the "DSP/SEL" knob to tune in 1.5 MHz increments, then use the VFO knob to fine tune. This was fairly easy to get used to but still. The little, cheesy, plastic feeling VFO knob could use some improvement. Having a nice, full-sized, VFO knob would give the radio a whole different feel.
The radio also badly needs a flip-down bail or some sort of support that could raise the front when the unit is being used on a low shelf or a tabletop.
Aside from these few complaints, I'm very happy so far. As a casual operator, the radio does everything that I need it to do, and does it very well indeed.
Very compact, and offering excellent performance at a very low price, I feel that the FT-450 is a real bargain in a high frequency transceiver.
Comments:
Dear W9DAZ (I'm not sure about your name, since QRZ has a different name compared to your blog)
I'm LU1DDL, Juan Carlos, from Buenos Aires, Argentina. I'm sending you this comment because I saw your post about the FT450. I'm planning to buy this transceiver, but, since in Argentina there arent enough references about the equipment's operation (and there are a lot of opinions around the web), I'd like to know if your opinion remains the same after this time, because I agree that the other equipments are either too expensive or dont fulfill the minimum expectatives.
Thanks for your help, I await for a reply.
LU1DDL, Juan Carlos
Post a Comment
Subscribe to Post Comments [Atom]
<< Home
Subscribe to Posts [Atom]